An interview with Heidi Herrmann about the work of The Natural Beekeeping Trust
in preserving our precious populations of bees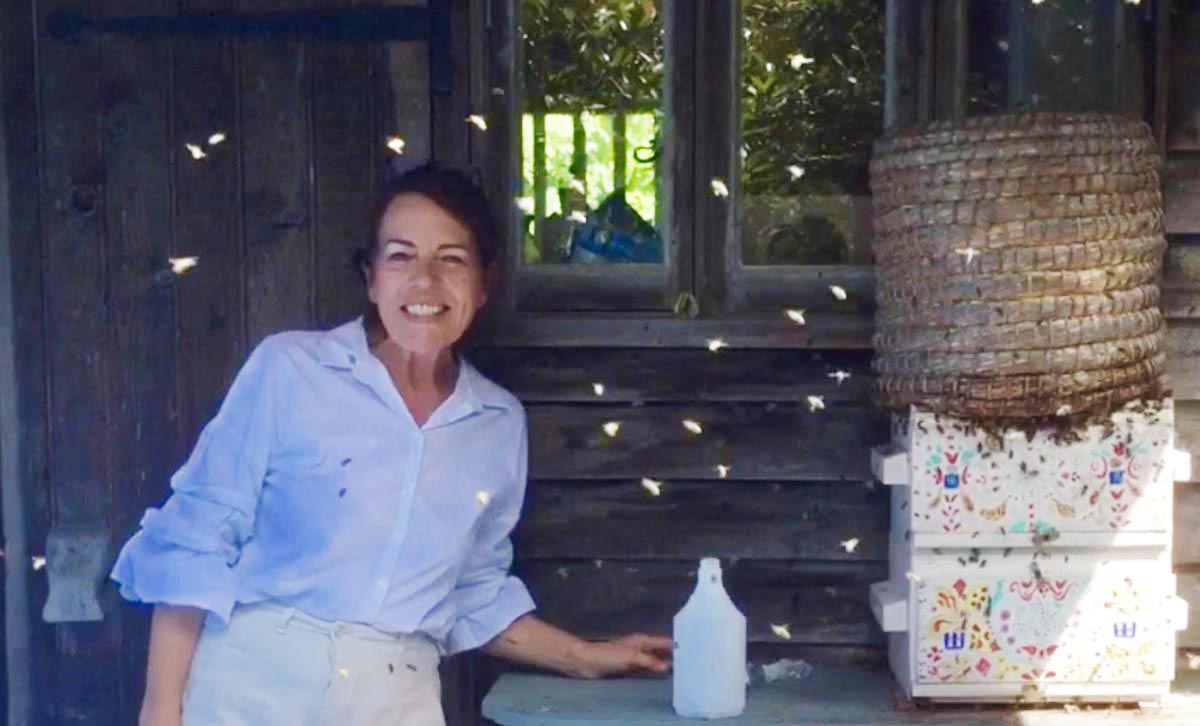 Please follow and like us:
Email this page to a friend
Email this page to a friend
Image Sources
Banner: Heidi Herrmann amongst her beehives. Photograph: The Natural Beekeeping Trust
First inset image: Two honey bees on a French lavender flower. Photograph: Michael Willis/ Alamy stock photo
Image inset with 'Hive' poem: Photograph by Simon Blackwood
Other Sources (click to view)
Natural Beekeeping Trust Publications
Jonathan Powell, The Tree Beekeeping Field Guide (ebook)
Günther Mancke, The Sun Hive (German original, 2005)
Iwer Thor Lorenzen, The Spiritual Foundations of Beekeeping (2016)
Iwer Thor Lorenzen, Bees and the Ancient Mysteries (2018)
See also Heather Swan, Where Honeybees Thrive (Penn State University Press, 2017) for a good overview of natural beekeeping strategies.
For information about the forthcoming conference 'Learning from the Bees', see https://www.learningfromthebees.org
Rudolf Steiner, Nine Lectures on Bees, Given to Workmen at the Goetheanum, Dornach, Switzerland, 1923. Translated by Marna Pease and Carl Alexander Mier. https://wn.rsarchive.org/Lectures/GA351/English/SGP1975/NinBee_index.html
Paul Neumann & Tjeerd Blacquière, 'The Darwin Cure for apiculture? Natural selection and managing bee health' in Evolutionary Applications, Vol. 10, Issue 3, March 2017, pp.226–30. See https://onlinelibrary.wiley.com/doi/full/10.1111/eva.12448
Thomas D. Seeley
The Wisdom of the Hive: Social Physiology of Honey Bee Colonies (Harvard University Press, 1996)
Honeybee Democracy (Princeton University Press, 2010)
Following the Wild Bees (Princeton University Press 2016)
Carol Ann Duffy, The Bees (Picador, 2011); quotes from 'Hive', p.31 and 'Virgil's Bees', p.23.
If you enjoyed reading this article, please leave a comment below.
Please also consider making a donation to support the work of Beshara Magazine. The magazine relies entirely on voluntary support. Donations received through this website go towards editorial expenses, eg. image rights, travel expenses, and website maintenance and development costs.
Please follow and like us:
READ MORE IN BESHARA MAGAZINE: